HYDE-STONE MECHANICAL CONTRACTORS INC. | ESTABLISHED 1893
---
Back in 1893, George and Charlie Hyde started a small heating and plumbing shop in Watertown, New York. Since 1893, that small shop has grown slowly and steadily into a major mechanical contracting company that covers most of the north country; and we now have offices in four different cities. Our offices are located in Syracuse, Watertown, Potsdam and Plattsburgh.    
As owners of Hyde-Stone, we are proud to say that our employees are one of our biggest assets. Our employees are dedicated and strive to provide our customers with the best service possible. They are more than willing to learn and grow as the world of technology grows. Our employees are very professional, and they believe in our values. So they are a major force behind our growth.
Our specialties include designing HVAC, Plumbing, Industrial Piping, Sheet Metal and Controls. We install these systems with the utmost care toward initial costs and toward overall costs including energy savings and the type of quality that can only be found with Hyde-Stone.
Our Service Department is the finest in the North Country with the most educated group of technicians in the area. We are constantly training our technicians with the newest technologies and customer-care processes.
We have a complete sheet metal and pipe pre-fabrication facility in our Watertown office. And because we have years of experience with pre-fabricating (plumbing, heating, piping and sheet metal), we are able to stay ahead of project deadlines. Certain aspects of projects can be fabricated long before they are needed in the field.  So when the field is ready for these pieces, we have them finished and waiting in the warehouse – tagged and ready to go out for delivery.
With our Facility Maintenance Division, we can help our customers in such areas as: office cleaning, snow plowing, lawn care, and small repairs to buildings – just to mention a few.  Our versatility in the business of property management means that our customers can make one call to handle the majority of their problems. And making one call instead of multiple saves our customers both time and money.
GIVING BACK
---
Hyde-Stone Mechanical Contractors, Inc. has been devoted to the communities it serves since 1893. In 2013, the company focused their reinvestment efforts in a formalized manner with the establishment of the Hyde-Stone Charitable Foundation. The charitable foundation allows the organization to uniquely and holistically support non-profit organizations and school districts in Jefferson, Lewis, St. Lawrence and Clinton counties. The charitable foundation was created in partnership with the Northern New York Community Foundation.
Since 1929, the Northern New York Community Foundation raises, manages and administers a charitable endowment and collection of funds designed to enhance the quality of life in the North Country. The Community Foundation works with a variety of donors, including corporations, to help realize charitable giving that promotes and advances community betterment.
The Hyde-Stone Charitable Foundation has allowed us to expand its community support in recent years through this integral philanthropic effort. Our charitable foundation has supported several organizations, including food pantries, health and wellness agencies and more. Our goal is to continue this vital support for years to come. It is our role to be a corporate leader in building stronger communities and showing our gratitude to the people and organizations who make our region better every day.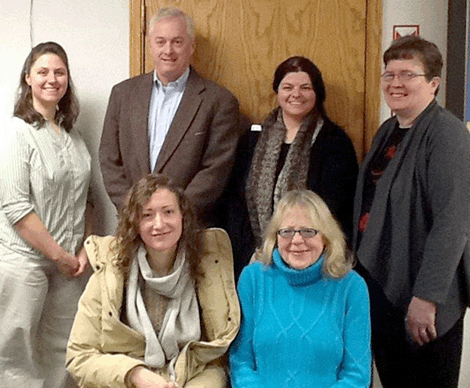 The Hyde-Stone Charitable Foundation recently made gifts totaling $2,000 to support several food pantries in St. Lawrence County.
From left in front are Ally Korony of the Colton/Pierrepont/Parishville pantry; Elaine Eggleston of Massena; back, Daisy Cox of the Potsdam Neighborhood Center, Christopher J. Stone of Hyde-Stone Charitable Foundation, Lisa VanKirk of Ogdensburg and Peggy Cronk of Gouverneur.